Fully welded, 16 Gauge, Double Wall construction, far exceeding the quality of our competitors. Experience the difference and payback savings that is bkm.
Guide Specifications (Click to Expand)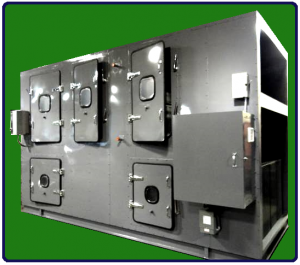 General
System Description

Indoor/Outdoor packaged energy recovery unit. Unit may be mounted on curb, pad, rails, or ceiling suspended indoors. System may be applied in a single, dual or three damper configurations.
Unit is designed as a complete stand-alone energy recovery ventilator, supporting a dedicated HVAC system or a complete 100% air make-up air unit with the simple addition of optional fans, heat/cool accessory coil modules and/or gas burners.
System must utilize a "REVERSE FLOW®" regeneration type fresh air / exhaust air recovery methodology.
Unit must meet or exceed a sensible temperature output effectiveness of 90% wintertime, 80% summertime +/- 5%. Based on manufactures published catalog.
Unit must have a wintertime latent return effectiveness of 70%.
Unit must have the ability to maintain a 90% effectiveness at varying flow rates if required by the system design.
Performance is based on the sizing of the unit to .402 inches of static pressure. A velocity of 437 feet per minute and a balanced SCFM exhaust/supply air streams.

Quality Assurance

Unit shall be constructed in accordance with industrial design practices.
Insulation is a 2" non-flammable 3 lb. density fiberglass Hardboard material.
All units shall be factory tested before shipment.
All steel panels are galvanneal and coated internally with with Heresite VR-500 air-dry phenolic an externally with commercial grade automotive enamel.

Delivery, Storage, and Handling

Units shall be stored and handled per manufacturer's recommendations.

Warranty

Units shall have a 1-year warranty on all parts with exclusion of the cassettes (Not valid if not installed according to manufacturer's recommendation).
Energy transfer cassettes shall have a 10-year conditional warranty.
Any warranty of less duration than the above IS NOT ALLOWED.
Vended items i.e. "fans, coil components, electronics on control panel" will utilize their existing OEM warranties.
Products
Equipment

All major components must be easily accessible and serviceable.

Housing

Double-walled, insulated, air pressure tight casing assemblies. No through metal shall be allowed. Where dissimilar metals are used, they shall be dialectically isolated from one another to prevent galvanic action. All Seals and gaskets shall be easily changeable and constructed of EPDM rubber which is ultra violet and ozone stable and have a normal temperature range from 40 to 130 degree F
Assembled panels shall be a minimum of 2-1/4" thick and shall be fabricated with the minimum 16-gauge solid exterior sheet and 16-gauge solid inside panel. Each panel shall have an integral formed channel of all four sides for added structural stability. Inner panels shall be sealed to each other using a double bead of polyurethane adhesive sealant and mechanically fastened with 12-10×1 tek screws on 12" staggered centers.
Wall panels are to be fastened to the channel base by means of a 1" tack weld on 12" centers, staggered from inside to outside of the housing. All seams and joints are finish caulked with non-hardening polyurethane sealant.
Interior panel insulation shall be 3 lb density fiberglass. Panel U-valve shall not exceed 0.07 Btu hr/sq. ft/F. UL fire rating, flame spread 10-20, fuel contributed 10-15, smoke developed 0-20.
Acoustical housing sections shall consist of 2-1/4" panels and shall be fabricated of minimum 16-gauge solid outer panel and 20-gauge perforated inner sheet. Perforated sheets shall have 3/32" diameter holes spaced no more than 3/16" on center in a staggered pattern. The insulation shall be 3-lb fiberglass with ¾ mil polyethylene covering between the insulation and the perforated coversheet.
The acoustical performance of the housing must meet the following criteria and be verified by independent NRTL test data.
Sound absorption Per ASTM C423-90a
Absorption coefficients Sabine/ft 2
| | | | | | | | |
| --- | --- | --- | --- | --- | --- | --- | --- |
| Octave Band | 125 | 250 | 500 | 1000 | 2000 | 4000 | NRC |
| 2-1/4″ panels w/ poly | 0.36 | 0.75 | 1.00 | 1.00 | 0.90 | 0.77 | 0.90 |
| 2-1/2″ panels w/o poly | 0.16 | 0.86 | 1.07 | 1.06 | 1.01 | 0.87 | 1.00 |
| 4" panels w/ poly | 0.90 | 1.15 | 1.04 | 1.03 | 0.97 | 0.76 | 1.05 |
| 4″ panels w/o poly | 0.86 | 1.13 | 1.06 | 1.07 | 1.06 | 0.99 | 1.10 |
Sound Transmission Per ASTM E90-90
Transmission loss in dB
| | | | | | | | |
| --- | --- | --- | --- | --- | --- | --- | --- |
| Octave Band | 125 | 250 | 500 | 1000 | 2000 | 4000 | STC |
| 2-1/4″ panels w/ poly | 22 | 40 | 47 | 52 | 57 | 57 | 46 |
| 2-1/2″ panels w/o poly | 30 | 40 | 47 | 54 | 61 | 61 | 50 |
The structure shall be self-supporting. Where roof spans and wall loadings require additional structural strength, it shall be furnished by heavier panel gauges, or additional structural members capable of withstanding a differential pressure of 10" w.g. Maximum allowable panel deflection is 1/200th of the panel span at full rated unit static pressure.
Exterior skin is galvanneal steel with Heresite VR-500 air-dry phenolic. Color VR-506 gray.
Roof panels will be of the same construction as the wall. Exterior unit roof construction will be pitched 1/8" per foot for water drainage. Roof skin will be 1-1/2" standing seam on maximum centers to minimize seams. A drip edge will be provided around the entire perimeter. Separate drip edges will be provided above each access door.

Damper Section

Bearings shall be sealed and will not require any additional maintenance when shaft sizing of shaft less than 1" are utilized.
Damper blade is to be insulated and of a double walled, single blade design.
All size units must utilize a pneumatic damper drive system as standard equipment.

Base

Unit casing shall be built up on a structural steel channel base suitably sized to prevent deflection during rigging. The perimeter base channel shall be turned web side in to provide a suitable rigging bracket location at the base. The entire unit floor will be constructed of galvanneal steel. All seams in the floor shall be tack welded and sealed. The floor shall be braced by structural steel members at a maximum of 24" on center. Formed steel for the channel base shall not be acceptable.
The entire depth of the channel shall be insulated with R-19 fiberglass insulation. The sides of the floor pan shall be insulated to prevent condensation at the channel base.
Unit drain pans when coils are required in the wet sections will be continuously welded, watertight 304 stainless steel with 1 1/4" drain connections. Each pan will pitch for positive condensate drainage.
All carbon steel surfaces shall be coated with Heresite VR-500 air-dry phenolic. Color VR-506 gray. Steel floor surfaces shall be top-coated with Heresite VR-500 air-dry phenolic. Color VR-506 gray.
The under side of the base will be covered with a 20-gauge galvanized coversheet.
Lifting lugs are required and will be welded or bolted on (removable) depending on job requirements.

Access Doors

All access doors, if equipped, are to be double wall construction, fabricated and insulated with the same gauge and quality of materials as the main housing. Structural steel shall be provided within the door and frame. All hinges and latches shall be mounted to structural steel. Mounting to sheet metal only is not acceptable.
Each door and frame shall be fabricated with integral flanges, working together to form a double gasketed seal effective against positive or negative pressure. Access doors shall have an integral flange, which supports a neoprene gasket, which mates to the doorframe. Each door frame shall be constructed of same gauge galvanneal sheet metal as unit casing and shall have an offset, flange used to support a second neoprene gasket which matches to a flat surface on the door. The door and frame gaskets shall have radius corners to provide a uniform gasket surface. Gaskets bent at 90° or mitered in the corners will not be acceptable. All gaskets are to be mechanically fastened to mounting flange; the use of glue or self-adhesive gasket is not acceptable.
All access doors are to be hinged using a minimum of two chrome plated, high-pressure diecast zinc, heavy duty, flush offset hinges with nylon bearings. The offset in the hinges shall be sufficient to prevent over-compression of the door's gasketed sealing system, and minimize gasket wipe. Piano hinges shall not be acceptable. All fastening hardware on outdoor access doors shall be stainless steel.
All access doors shall be provided with a minimum of two heavy-duty, chrome plated latches, die-cast from a non-corrosive zinc aluminum alloy. Latches shall be provided with both interior and exterior turn handles. Exterior handle shall contact matching chrome plated ramp and provide adequate pressure to form a positive gasket seal.
Where inspection only access is required, bolt on access panels with gaskets will be provided.

Heat Transfer Cassettes

The characteristics of various finished aluminum products are determined in part by their alloy content. The REVERSE FLOW® energy recovery system utilizes pure aluminum plates of 1100 alloy to offer excellent corrosion resistance. The structural frames and optional storm louvers are constructed of 16-gauge 304 stainless steel.
The energy transfer cassettes consist of 63 corrugated plates per module and have a minimum thickness of .0276 inch, maximum .032 inch per plate. With a sensible energy recovery effective rate of 90% winter 80% summer +- 5% and latent recovery of up to 70% during cold winter conditions. System will not require freeze protection to 40 F under standard applications.
Each individual cassette must weigh 105 lbs and be sized to flow 500 cfm to achieve a 90% effectiveness rate.
Energy transfer cassettes shall be easily accessible individually.
All cassettes are removable and cleanable with a pressure washer if ever required.
Heresite dip type coatings may be applied for use in caustic exhaust air environments.
In Swimming pool/High Chlorine and other high moisture exhaust applications the plates shall be dialectically isolated from the stainless frame to minimize galvanic corrosion. The interior wall panels will be additionally coated with Dupont 25P Epoxy mastic coating for further corrosion protection.

Drain Pans

For Swimming Pool/Chlorine Environments and other high moisture exhaust applications, a stainless reverse sloped drain pan will be provided under each cassette bank with external "stubbed" connection points to facilitate and control condensate removal. A stainless gutter system will also be incorporated below the cassettes louvers to capture and condensate that drips from the louvers.
Drain pans for non-high moisture exhaust environments are not required.

Filtration / Cleaning

Unit shall be of a self-cleaning design. No filters will be required under normal operating conditions. Cassette will have the capability to be power washed in the field if ever required.

Electrical Work

Electrical work shall be as per strict NEC standards.
Unit manufacturer shall completely wire all components to single point for field connection by an electrical contractor if specified.
Units shipped in sections shall have pre-tagged wiring for quick connection of electrical circuits.
A combination starter shall be provided for each fan motor within sight of the motor with auxiliary contacts if specified.

Piping Work

At a minimum, coil connections will be extended through the unit casing to the exterior or service corridor. All penetrations will be sealed. Complete system piping will be provided by the unit manufacturer if specified.
Controls
General

An integral control panel shall be mounted on top of the damper section in an enclosed weather tight environmentally controlled compartment.
Controls include the following components:

Damper control timer with built-in economizer cycle. (Built in clock with 6 points of input, 4 output)
Pneumatic cylinder.
Four-way cylinder control valve.
On/off switch and building power connection block.
Portable compressor package (optional)

Fused main disconnect will be provided when optional fan options are selected.
All service parts are to be stocked readily available.

Electrical System

All components are fully wired and tested prior to shipment.
All electrical components used are individually CSA and UL listed. The unit must be field certified after installation by others if so required.

Variable Air Volume

The heat recovery unit can be utilized and configured for variable air volume applications (VAV) with the use of multiple two-position isolation dampers installed in front of the sectioned cassette banks located within the interior of the cassette housing assemblies.
The cassette banks are sectioned off into uniform sub-banks to provide multiple stages of VAV capacity. The maximum number of stages, and volume of each stage, is limited by the geometric arrangement of the overall cassette bank selected.
Each cassette bank sub-section is separated from the adjacent sections by the use of a double wall insulated vertical and/or horizontal dividing wall or floor.
The cassette sub-banks sections are equipped with opposed blade dampers. These dampers are low leakage, extruded aluminum and thermally insulated. They also include a factory-installed 24vac two position, power open spring close actuator. All units designed for indoor installations will have the damper control shafts extended to the exterior of the cassette housing for ease of wiring and service. Units designed for outdoors installations will have the actuators mounted inside the cassette housing for weather protection.
In both indoor and outdoor applications the damper actuators are factory wired to a junction box, mounted on the outside of the cassette housing for a convenient control wiring connection point.
A bolt on access door is provided with in the cassette housing for easy damper service, inspection and maintenance.
Units with out this capability will not be accepted.

Channel bases are welded structural steel with intermediate steel members. Bottom cover sheet and full base insulation are bkm standards. The entire unit floor will be constructed of a minimum 10 gauge plate steel and formed into a 3″ deep water tight sump as standard.

Removable lifting lugs as standard.
Continuously welded stainless steel drain pans pitched to drains as standard.
Coils are independently racked with full size intermediate stainless steel drain pans as standard.

Panelized wall assembly withstands 10″ wg. as standard.