An extensive line of custom models built to any specification to meet the needs of your energy management solutions.
Guide Specifications (Click to Expand)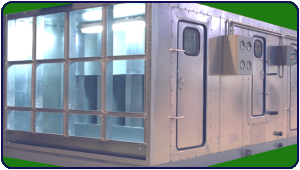 General
Quality Assurance
Unit shall be constructed in accordance with industrial design practices.
Insulation is a 2" non-flammable 3 lb. density fiberglass Hardboard material.
All units shall be factory tested before shipment.
All steel panels are galvanneal and coated internally with with Heresite VR-500 air-dry phenolic an externally with commercial grade automotive enamel.
Delivery, Storage, and Handling
Units shall be stored and handled per manufacturer's recommendations.
Products
Equipment
All major components must be easily accessible and serviceable.
Housing
Double-walled, insulated, air pressure tight casing assemblies. No through metal shall be allowed. Where dissimilar metals are used, they shall be dialectically isolated from one another to prevent galvanic action. All Seals and gaskets shall be easily changeable and constructed of EPDM rubber which is ultra violet and ozone stable and have a normal temperature range from 40 to 130 degree F
Assembled panels shall be a minimum of 2-1/4" thick and shall be fabricated with the minimum 16-gauge solid exterior sheet and 16-gauge solid inside panel. Each panel shall have an integral formed channel of all four sides for added structural stability. Inner panels shall be sealed to each other using a double bead of polyurethane adhesive sealant and mechanically fastened with 12-10×1 tek screws on 12" staggered centers.
Wall panels are to be fastened to the channel base by means of a 1" tack weld on 12" centers, staggered from inside to outside of the housing. All seams and joints are finish caulked with non-hardening polyurethane sealant.
Interior panel insulation shall be 3 lb density fiberglass. Panel U-valve shall not exceed 0.07 Btu hr/sq. ft/F. UL fire rating, flame spread 10-20, fuel contributed 10-15, smoke developed 0-20.
Acoustical housing sections shall consist of 2-1/4" panels and shall be fabricated of minimum 16-gauge solid outer panel and 20-gauge perforated inner sheet. Perforated sheets shall have 3/32" diameter holes spaced no more than 3/16" on center in a staggered pattern. The insulation shall be 3-lb fiberglass with ¾ mil polyethylene covering between the insulation and the perforated coversheet.
The acoustical performance of the housing must meet the following criteria and be verified by independent NRTL test data.
Sound absorption Per ASTM C423-90a
Absorption coefficients Sabine/ft 2
| | | | | | | | |
| --- | --- | --- | --- | --- | --- | --- | --- |
| Octave Band | 125 | 250 | 500 | 1000 | 2000 | 4000 | NRC |
| 2-1/4″ panels w/ poly | 0.36 | 0.75 | 1.00 | 1.00 | 0.90 | 0.77 | 0.90 |
| 2-1/2″ panels w/o poly | 0.16 | 0.86 | 1.07 | 1.06 | 1.01 | 0.87 | 1.00 |
| 4" panels w/ poly | 0.90 | 1.15 | 1.04 | 1.03 | 0.97 | 0.76 | 1.05 |
| 4″ panels w/o poly | 0.86 | 1.13 | 1.06 | 1.07 | 1.06 | 0.99 | 1.10 |
Sound Transmission Per ASTM E90-90
Transmission loss in dB
| | | | | | | | |
| --- | --- | --- | --- | --- | --- | --- | --- |
| Octave Band | 125 | 250 | 500 | 1000 | 2000 | 4000 | STC |
| 2-1/4″ panels Solid | 22 | 40 | 47 | 52 | 57 | 57 | 46 |
| 4" panels Solid | 30 | 40 | 47 | 54 | 61 | 61 | 50 |
The structure shall be self-supporting. Where roof spans and wall loadings require additional structural strength, it shall be furnished by heavier panel gauges, or additional structural members capable of withstanding a differential pressure of 10" w.g. Maximum allowable panel deflection is 1/200th of the panel span at full rated unit static pressure.
Exterior skin is galvanneal steel with Heresite VR-500 air-dry phenolic. Color VR-506 gray.
Roof panels will be of the same construction as the wall. Exterior unit roof construction will be pitched 1/8" per foot for water drainage. Roof skin will be 1-1/2" standing seam on maximum centers to minimize seams. A drip edge will be provided around the entire perimeter. Separate drip edges will be provided above each access door.
Base
Unit casing shall be built up on a structural steel channel base suitably sized to prevent deflection during rigging. The perimeter base channel shall be turned web side in to provide a suitable rigging bracket location at the base. The entire unit floor will be constructed of galvanneal steel. All seams in the floor shall be tack welded and sealed. The floor shall be braced by structural steel members at a maximum of 24" on center. Formed steel for the channel base shall not be acceptable.
The entire depth of the channel shall be insulated with R-19 fiberglass insulation. The sides of the floor pan shall be insulated to prevent condensation at the channel base.
Unit drain pans when coils are required in the wet sections will be continuously welded, watertight 304 stainless steel with 1 1/4" drain connections. Each pan will pitch for positive condensate drainage.
All carbon steel surfaces shall be coated with Heresite VR-500 air-dry phenolic. Color VR-506 gray. Steel floor surfaces shall be top-coated with Heresite VR-500 air-dry phenolic. Color VR-506 gray.
The under side of the base will be covered with a 20-gauge galvanized coversheet.
Lifting lugs are required and will be welded or bolted on (removable) depending on job requirements.
Units without an integral structural base are not accepted.
Access Doors
All access doors, if equipped, are to be double wall construction, fabricated and insulated with the same gauge and quality of materials as the main housing. Structural steel shall be provided within the door and frame. All hinges and latches shall be mounted to structural steel. Mounting to sheet metal only is not acceptable.
Each door and frame shall be fabricated with integral flanges, working together to form a double gasketed seal effective against positive or negative pressure. Access doors shall have an integral flange, which supports a neoprene gasket, which mates to the doorframe. Each door frame shall be constructed of same gauge galvanneal sheet metal as unit casing and shall have an offset, flange used to support a second neoprene gasket which matches to a flat surface on the door. The door and frame gaskets shall have radius corners to provide a uniform gasket surface. Gaskets bent at 90° or mitered in the corners will not be acceptable. All gaskets are to be mechanically fastened to mounting flange; the use of glue or self-adhesive gasket is not acceptable.
All access doors are to be hinged using a minimum of two chrome plated, high-pressure die-cast zinc, heavy duty, flush offset hinges with nylon bearings. The offset in the hinges shall be sufficient to prevent over-compression of the door's gasketed sealing system, and minimize gasket wipe. Piano hinges shall not be acceptable. All fastening hardware on outdoor access doors shall be stainless steel.
All access doors shall be provided with a minimum of two heavy-duty, chrome plated latches, die-cast from a non-corrosive zinc aluminum alloy. Latches shall be provided with both interior and exterior turn handles. Exterior handle shall contact matching chrome plated ramp and provide adequate pressure to form a positive gasket seal.
Where inspection only access is required, bolt on access panels with gaskets will be provided.
Piano type hinges and clasp type door latches are not acceptable.
Hinges mounted directly in to sheet metal are not acceptable.
Drain Pans
For Swimming pool and other high moisture exhaust applications, a stainless reverse sloped drain pan will be provided under each cassette bank with external "stubbed" connection points to facilitate and control condensate removal. A stainless gutter system will also be incorporated below the cassettes louvers to capture and condensate that drips from the louvers.
Drain pans for non-high moisture exhaust environments are not required.
Electrical Work
Electrical work shall be as per strict NEC standards.
Unit manufacturer shall completely wire all components to single point for field connection by an electrical contractor if specified.
Units shipped in sections shall have pre-tagged wiring for quick connection of electrical circuits.
A combination starter shall be provided for each fan motor within sight of the motor with auxiliary contacts if specified.
Piping Work
At a minimum, coil connections will be extended through the unit casing to the exterior or service corridor. All penetrations will be sealed. Complete system piping will be provided by the unit manufacturer if specified.
Electrical System
All components are fully wired and tested prior to shipment.
All electrical components used are individually CSA and UL listed. The unit must be field certified after installation by others if so required.



This quick reference chart is intended to be used as a tool to help the designer establish the physical size of a custom air handling unit. The designer must initially determine unit performance and capacity. The designer must also determine components required and then sequence in direction of airflow. The designer should enter the chart at the appropriate CFM and calculate the net length of the component sections required.
All dimensions are in inches.
Dimensions and weights are for reference only, not for construction.
Weights are for the overall size of the configuration shown, L x W, with double wall construction.
Certified prints available upon request.

Factory electrical panels for power distribution and control.
Factory sound attenuators.
Factory piping and assembly of gas trains.

Factory piping for chilled water, hot water and steam coils.
Factory installed low leakage dampers.
Factory installed filters from 30% to 99.99% with custom factory frames.

Factory evaporative coolers complete with pumps and piping.
Factory vibration bases and belt guards on a full range of centrifugal, plenum, and axial fans (Axial fans not shown)

Factory plug panels for ease of component removal.
Factory full length corridors are available on custom units.


Computer aided design (CAD) submittal drawings, concept/proposal drawings and shop drawings are generated on the latest version of
AutoCAD
©.
A complete array of factory test, including sound, leakage, and performance are available for customer witness. Also available are panel sound transmission and absorption data. Test data is certified by an independent nationally recognized testing lab (NRTL).